Czech Republic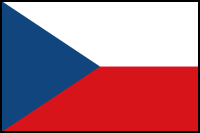 This country profile was migrated from the legacy system and the new text is under consideration of the respective government authorities.
Policing overview: The National Police in the Czech Republic operates under the jurisdiction of the Ministry of the Interior.
National Police
National Police
1. General information
The National Police of the Czech Republic is the only service dealing with all public security and crime investigation matters. There are no regional or city policing bodies with similar tasks, only municipal police wardens responsible for traffic and public order in specific municipalities. However, they have no rights of arrest and investigation.
2. Structure and organization
The organization of the Czech National Police conforms to the former administrative divisions of the country into eight regions and 86 district headquarters (HQs). At the head of the Czech Police is the Police President, who presides over four deputies and eight regional HQs or Directorates, each with its own Operational Centre, Forensic Laboratory and Logistics, Personnel and Health Departments. These, in turn, supervise 86 district police headquarters with 620 local detachments.
For a detailed organization chart, both in English and in Czech, please view the Attachments section below.
3. Staff data
As of 2006, total staff numbered approximately 47,400 police officers, supported by about 11,600 civilian staff.
Police Education/Training
1. General information
In force since 1 January 2005, the new Act of Police Services encompasses the main principles of Strasbourg's European Code of Police Ethics, which states that "the police officer must be able to demonstrate sound judgment, an open attitude, maturity, fairness, communication skills and - where necessary - leadership and management skills, and the police officer must be sensitive to social, cultural and community issues".
2. Priorities
Priorities of National Security Strategy of the Ministry of the Interior are: high-impact economic crime (e.g. fraud, tax dodging, money laundering), corruption, illegal migration, terrorism, crime with extreme phenomena, illegal drugs and psychotropic substances, trafficking, juvenile delinquency, intellectual property crimes, thefts (e.g. stolen and robbed cars) and murders.
National Programme for Adoption of the Acquis: human rights education, police ethics, combating racism, xenophobia, organized crime, drug trafficking, corruption, and money laundering.
Other priorities include contemporary trends in support of training in such critical areas as political ethics and communication skills.
3. Principles
Police work should serve all citizens; indeed, all civilians (whether local nationals or not). The priority of this service must be to satisfy civil society's needs. Therefore, police officers must demonstrate that they act only in keeping with the highest professional ethics, and that they are qualified, motivated and demonstrably professional in the exercise of their duties. These qualities are rightly expected and demanded by the society ("A new image of the police officer").
Police education and training must focus on developing such competencies, rather than just showing deference to an encyclopedic collection of information. Emphasis here is on the personal responsibility of each police officer for continuous self-education.
4. Training institutions
The Ministry of the Interior - Department of Police Education, Training and Police Colleges - is responsible for basic and continuing education and training for Czech police officers and also for managing police education and training for: 
Police colleges (8000  – 10000 graduates per year, about 410 teachers)

Nine training centres (7000 – 8000 graduates in all annual training programmes and about 500 instructors); and

Police Academy (2400 students, about 100 teachers)
Functions and missions of police colleges: Ministerial police colleges are part of the Czech college system designed to:
train police officers for all related services;

provide complete education and training in the area of law enforcement;

offer special courses and further vocational training also to higher-level police officers;

train personnel of the Ministry of the Interior (to a limited extent);
All teachers and trainers must be university graduates. All educational programmes are adjusted accordingly to an precisely defined contemporary profile of a police graduate, which determines his/her professional and social competencies and attitudes, as well as the physical condition of the graduate. A New Concept of Police Colleges' Teacher's Training has been drafted, identifying key competencies necessary for qualified performance defined by professional standards; a New Concept of Police Instructor's Training has also been prepared.
The Police Academy of the Czech Republic is a state-supported university located in Prague and established in October 1992 to enable students to obtain the required level of education (i.e. Bachelor's, Master's or Doctor's degree in the field of international law). Curricular activities are focused on the law and other related subjects, but forensic science, psychology, ethics and advanced methods to combat organized crime are also included.
Students are in contact with police practitioners and research activities focused on topical areas and disciplines inherent to the sector of the Ministry of the Interior and the National Police.
International co-operation is exercised on the basis of bilateral agreements governing reciprocal short-term exchange of teachers, scientists and students.
Criminal Justice System
1. General information
The justice system of the Czech Republic is composed of 86 district courts, 8 regional courts, 2 high courts and the Supreme Court.
The Constitutional Court located in Brno represents the highest judicial authority in the Czech Republic. Its scope of jurisdiction is different than that of the other courts (see above), primarily because it does not deal with criminal cases. Prosecution is done by the State Prosecutor's Office, which is completely independent of the courts themselves. The structure of the State Prosecutor's Office complies conscientiously with the courts' structure.
2. Prosecution
There are 86 district prosecutors' offices, 14 regional prosecutors' offices, 2 high prosecutors' offices and the Supreme State Prosecutor's Office, located in Brno.