Luxembourg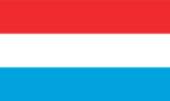 Policing Overview
The Grand-Ducal Police (Police Grand-Ducale) is the primary law enforcement agency in the Grand-Duchy of Luxembourg. The police is under the control of the Minister for Internal Security of Luxembourg, although they operate in the name, and under the ultimate control, of the Grand Duke.
Border Security and Management Overview
In Luxembourg, the Grand Ducal Police is competent for border security in particular. The National Airport Police Unit (Unité Centrale de Police à l'Aéroport) is in charge of the only external border - the International Airport at Luxembourg-Findel.
Counter Terrorism Overview
In Luxembourg, the Intelligence Service, the State Prosecutor (together with the Financial Intelligence Unit of the State Prosecutor's Department of Luxembourg), the investigating judge and the Grand Ducal Police (Anti-Terrorism Unit) play an active part in the fight against terrorism.
Cyber/ICT Security Overview
The National Agency for the Security of Information Systems together with GOVCERT.LU monitor and coordinate the national cybersecurity strategy, policy and road map of Luxembourg.