Greece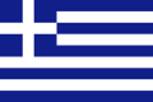 Policing Overview
The Hellenic Police operates under the jurisdiction of the under the jurisdiction of the Ministry of Citizen Protection. Greece is divided into two sectors of policing - Northern Greece and Southern Greece - with both consisting of several regions. Furthermore, the Greek Police force commands several special services divisions.
Border Security and Management Overview
The Greek borders are divided into three sectors (land, air and sea borders), according to the Schengen Acquis and the framework of the European Border and Coast-Guard Agency (Frontex). The land and air borders protection fall under the jurisdiction of the Hellenic Police, while the protection of sea borders fall under the jurisdiction of both the Hellenic Police and the Hellenic Coast-Guard.
Counter Terrorism Overview
The Hellenic Police operates a Special Suppressive Counter-terrorism Unit, which reports directly to the chief of the Hellenic police. It is supported by Greece's National Intelligence Service, which is subordinate to the Hellenic Parliament.
Cyber/ICT Security Overview
The National Authority Against Electronic Attacks (NAAEA) is responsible for co-ordinating the management and mitigation of cyber incidents, in particular, those targeting critical infrastructure, and for the establishment of additional measures pertaining to the safeguarding of the public sector and the Greek critical infrastructure against cyber-attacks.