Azerbaijan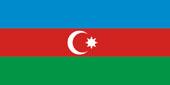 Policing Overview
The National Police is an integral part of the Ministry of Internal Affairs of the Republic of Azerbaijan, which is the central executive agency responsible for public security, prevention and exposure of criminal offences in the Republic of Azerbaijan within the framework of authorities provided by the national legislation.
Border Security and Management Overview
The Azeri Border is managed, observed and controlled by the State Border Service and the State Customs Committee of the Republic of Azerbaijan. In regards to transnational organised crime, they are supported by the State Security Service.
Counter Terrorism Overview
The State Security Service is primarily responsible for combating terrorism, although the National Police also plays a role as the country's primary law enforcement entity.
Cyber/ICT Security
The Electronic Security Service (ESS) under the Ministry of Communications and High Technologies (MCHT) acts as both the national CERT (CERT.AZ) and as a coordinating state authority on cyber/ICT security issues.