Poland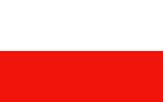 Policing Overview
Law enforcement in Poland is typically conducted by the National Police (Policja), and by Municipal Guards (Straże Miejskie i Gminne).
Border Security and Management Overview
The Border Guard (Straż Graniczna, SG) is a state security agency tasked with the protection of the Polish borders and immigration control.
Counter Terrorism Overview
Pursuant to the 10 June 2016 Act on Antiterrorist Actions the Head of the Internal Security Agency is responsible for prevention of terrorism, whereas the minister competent for internal affairs – for preparedness, response to a terrorist incident as well as recovery after the attack. 
Cyber/ICT Security Overview
The National Cybersecurity Center (NC Cyber), is responsible for facilitating security collaboration between sectors and for being an early-warning system. Additionally, the Computer Emergency Response Teams (CSIRT NASK, SCIRT GOV and CSIRT MON) coordinate efforts aimed at ensuring  Cyber/ICT Security.